Have you planned your next gateway for your upcoming holiday? Well, if not, let me give a suggestion on where you can go.

It is always hard to choose a good location to travel since there is a lot of interesting places in this world that can be visited.


My choice of country for you today is the famous Hong Kong and Macau. There are many wonderful attractions in these two places that will definitely make you interested to go there.

Let's go through some of the lists that I have made especially for you, a travel's lover.

This list is also useful for a Muslim traveler, so don't turn away from this article and continue reading it.


Places to Visit

[In Hong Kong]
Aberdeen Fishing village is a place where you can find junks (ancient Chinese sailing ship), sampans, boathouse around the village. There are also some locals who live there on the boathouse.


Victoria peak will provide you with views of Hong Kong City, Victorian Harbour, Lamma Island and the surrounding islands. You can reach the peak by riding the Peak Tram.

Symphony of Lights is recognized as one of the world's most gorgeous light shows. It is conducted for every night at Victoria Harbours.


Observation Wheelis where you can see a higher view of Victoria Harbour by getting on this 60-metre-high Hong Kong Observation Wheel.

Hong Kong Disneyland is the largest theme park in Hong Kong. There are seven themed areas in this theme park which are Main Street, U.S.A., Fantasyland, Adventure land, Tomorrow land, Grizzly Gulch, Mystic Point, and Toy Story Land.


Hong Kong Ocean Park is the second largest theme park in Hong Kong where the attractions include an amusement park, marine mammal park, animal theme park and oceanarium.


Old Town Central Art Walk is where people can see Hong Kong culture from the street arts painted on the walls along the road.


Tai O Fishing Village, a village resided by traditional fisher folks.


Clock Tower was built in 1915 and a part of the Kowloon-Canton Railway terminus. It has become an important landmark, especially among Chinese immigrants.


Man Mo Temple is known as one of the oldest Taoist temples resided in Hong Kong.


Temple Street Night Market is a very popular market for the locals and also for tourists. There are many things sell in this market.


Jade Market is a place to find various kind of beautiful jades with different qualities.


Repulse Bay is a beautiful beach in Hong Kong with a crescent-shaped stretch of sand.


Avenue of Stars, inspired by Hollywood Walk of Fame, this is where people pay tribute to Hong Kong actors, actresses, directors and so on.


Peak Tower is a building with a height of 396 metres above the sea. Many restaurants and shops can be found inside the tower.


Sky 100 Hong Kong Observation Deck is where you can get to the 100th floor of the building within 60 seconds only.


Kowloon Mosque was established in 1986 and it was the largest place of worship for Muslim in Hong Kong.



[In Macau]
Ruins of St. Paul's, one of the famous landmark in Macau which had become a part of Historic Centre of Macau in 2005.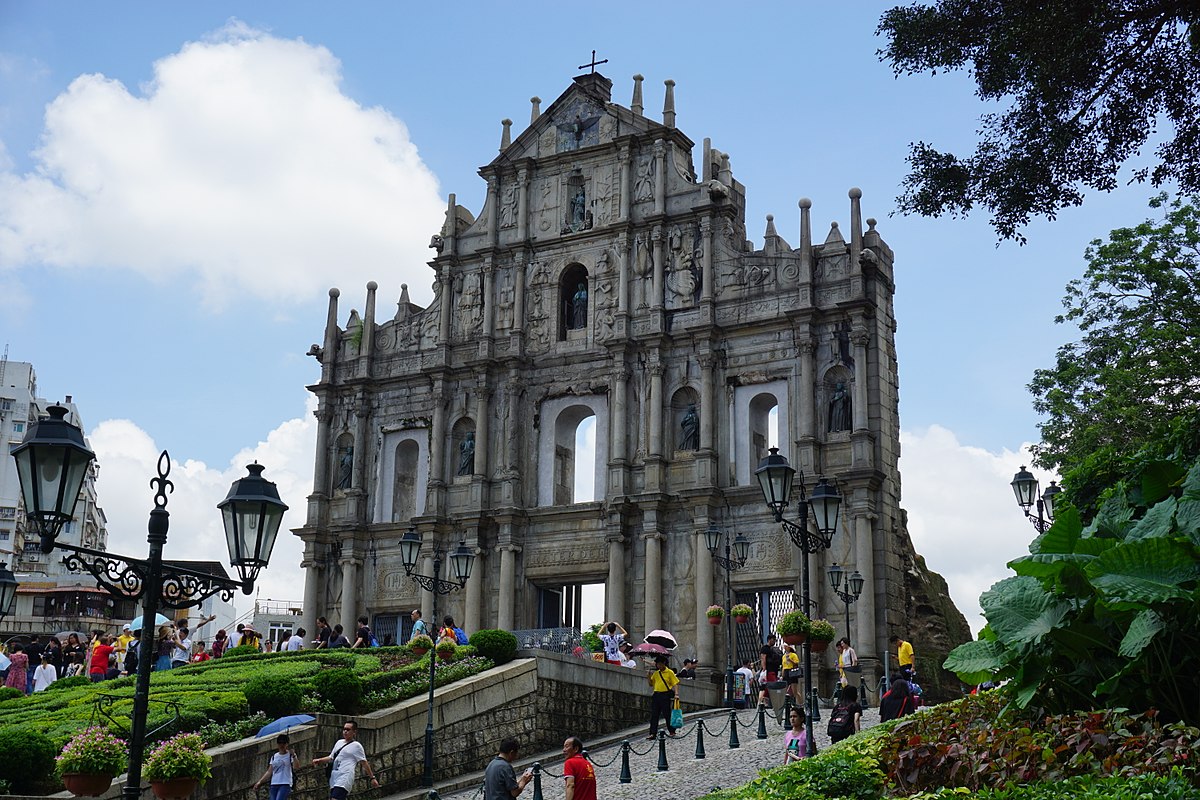 Macau Museum, located near Ruins of St. Paul's and it is a place that kept all of Macau's history.

Mount Fortress, the main defense structure in Macau in the past time.

Lou Kou Mansion was built in 1889 and owned by a famous Chinese merchant. Designed with Chinese Xiguan architecture.

Senado Square is also a part of the UNESCO Historic Centre of Macau World Heritage Site where the buildings is a paved town square surrounded by western buildings.

Mandarin House is a residential complex where you can observe the traditional Chinese architecture outside and a western interior design inside of the house.

Moorish Barracks, buildings design oriented from Mughal and gothic architecture. Now, It is used as the main office for Marine and Water bureau.


A-Ma Temple, built in the 15th century and it is considered as the oldest temple in Macau.


Maritime Museum, a place where the history of Chinese and Portugal maritime are displayed.

Macau Tower is considered as one of the World Federation of Great Towers. This tower offers panoramic views of Macau city and you can also experience skywalk, skyJump as well as bungee jump here.

Francis Xavier Chapel, it is built with Baroque architecture and a bit of traditional Chinese architecture.


Fisherman Wharf, a tourist spot which has a various shopping centre, restaurant, hotel and others. The buildings were built using European and American architecture.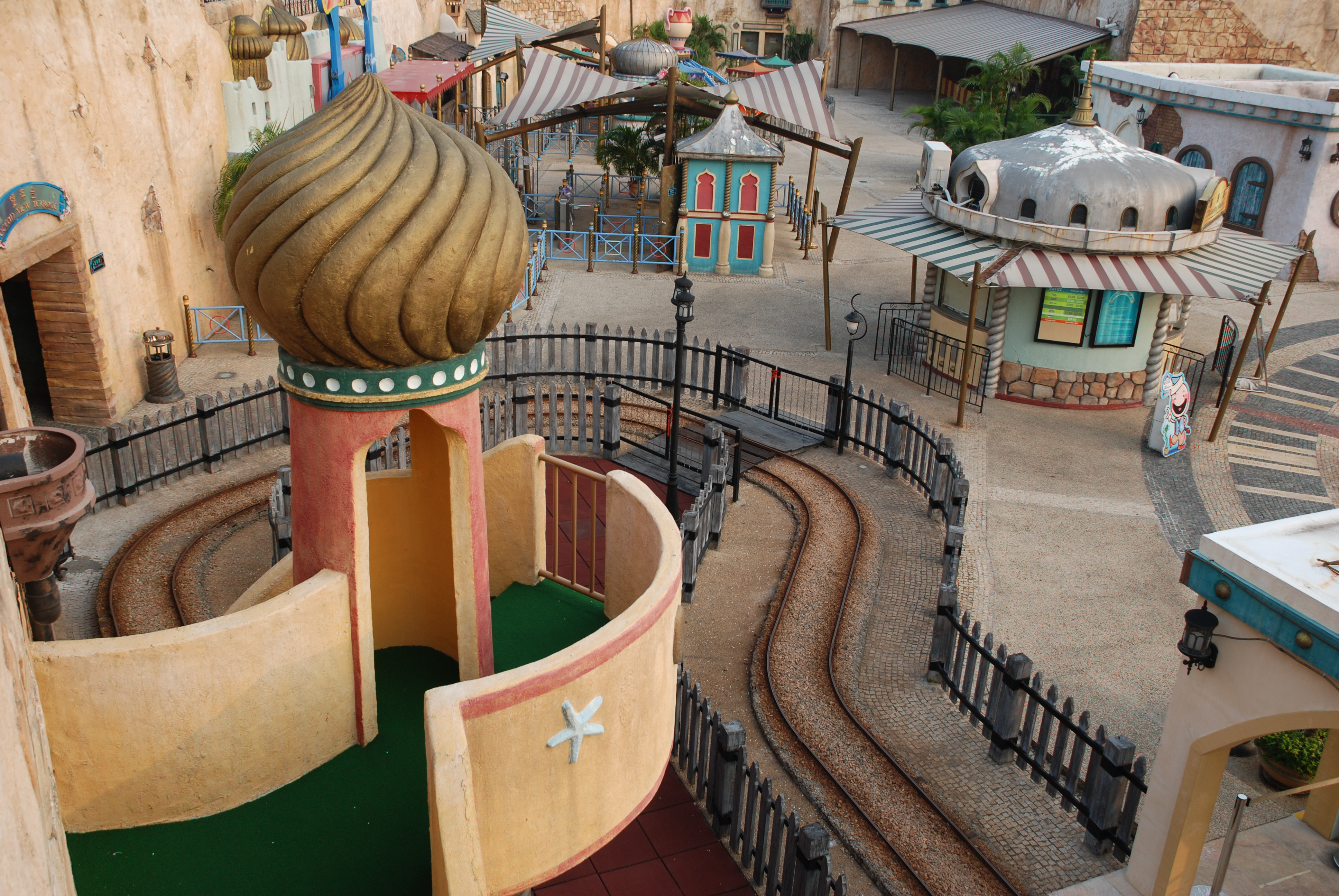 Macao Giant Panda Pavilion, a great attraction place for tourists, where they can see two giant pandas and two red pandas kept safe in this pavilion.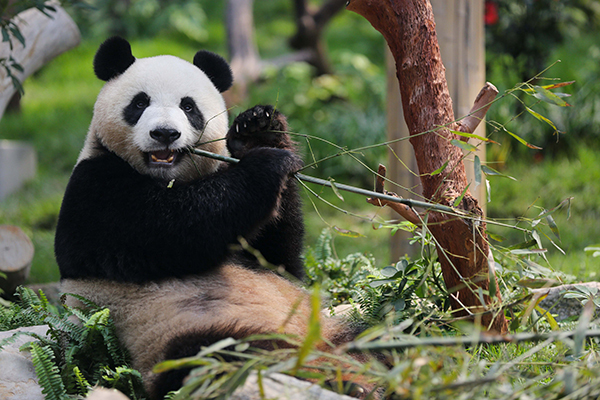 Cotai, a great place to shop for branded shoes, begs and etc. The buildings is also spectacular to be seen during the night due to the lights from surrounding buildings and resorts. This also includes the Venetian, Studio City and Galaxy Macau.


Lou Lim Leoc Garden, a garden built by Lou Kou, a Chinese merchant. Exhibition for arts and handicrafts are also often being held here.


Macao Tea Culture House where anyone can taste various kind of tea and learn about the art of tea from China and the West.


Taipa Houses, it was built using Portugis architecture in 1921 and now served as a museum complex where anyone can visit to view the houses.


Chunha Street, a street for food lovers where a long row of stalls can be found here selling various type of food.

Macau Mosque is the only mosque that you can find in Macau. You can also find Muslim cemetery beside the mosque.


Macau FESTIVAL
Some festivals in Macau that you cannot miss when you visit Macau
(starting from August):

AUGUST



Wushu Master Challenge


SEPTEMBER



International Fireworks Display Contest


OCTOBER



Macau International Music Festival


NOVEMBER



Macau Grand Prix




Macau Food Festival

DECEMBER



Macau Light Festival




Macau International Marathon




Macau International Parade

FOOD

[In Hong Kong]
Islam Food
This restaurant will serve you with Halal authentic Xinjiang cuisine which you don't want to miss especially when you visit Hong Kong. It is a popular restaurant not only for Muslim or tourists but the local people also can be seen dining in this place.

Happy Cow
A place where you can enjoy a Halal ice cream during your stay in Hong Kong. Ranging from various flavours that you can choose. You should try Ying Yang Sesame flavour ice cream as it is the shop's signature menu.

Explorer's Club
This place can be found inside Disneyland and it serves various cuisine around the world including Korean, Japanese, Indonesian and Southeast Asian. The most important thing is that there are also Halal-certified stalls that Muslims can visit.

Islamic Centre Canteen
One of the must-eat menu that you must try when visiting China is of course, Dim Sum. You can have this Chinese specialty here where they are well-known for their delicious Dim Sum and don't worry because it is also Halal certified.

Ma's Restaurant
This restaurant offers you to taste out Halal Chinese culinary and its specialties are the veal goulash and lamb rolls which you should definitely try it out.

Wai Kee Duck Rice
Just by looking at the sight of the roasted duck will make your stomach growls. This place is so delicious that even the locals often visit to eat here. It is also a Halal-certified restaurant.

Oh Food Arabic Halal Cuisine
This place is where you can find Arab dishes instead of Chinese. It is worth to be visited for the chef and the ingredients were imported from the Middle East.

Hyatti Restaurant
A place where you can have a variety of food with Halal certification, the restaurant does not only served Egyptian and Mediterranean foods but they also served a delicious pasta and pizzas.
[In Macau]
Golden Peacock
Located in the vast Venetian complex, this is a must-visit Halal-certified Indian restaurant. The menu covers all type of Indian cuisine that you can try.


Firma U Tac Hong
Visit this restaurant to have a taste of their halal and famous Tofu Fa. This food is also known to be originated from China, so don't miss your chance to try its original taste made by the local people.

Yuanyang tea
This Hong Kong-style milk tea is well deserved to taste when you are in China. It can either be served hot or cold.
Dong Lai Shun Muslim restaurant
Famous for its mutton hot pot, this restaurant will make your mouth waters with their delicious dishes.


Indian Spice
Enjoy a variety of Halal Indian cuisine in this restaurant built in Macau, China. Try out their delicious naan bread and butter chicken.

Taste of India
Located in the Fisherman's Wharf, this place also served Halal Indian food for the locals as well as the tourists.

Loly Indonesian Food
You can try visiting this wonderful Halal certified restaurant that will provide you with different kinds of Indonesian food.

Loulan Islam Restaurant
Don't forget to come to this restaurant as it offers you with authentic halal Chinese food. You can now taste the Chinese cuisine without worrying about the halal.

I guess that's the end of my list but not to worry since this is not everything. There are more gorgeous places and various delicacies that you can explore there.

Even if you are a Muslim, by reading this article, you can see that these two places are also Muslim-friendly.

So, there is no more excuse that can keep you from coming to these places.
I hope you will consider Hong Kong and Macau as the next breakaway of your life because it's totally worth it!

Visit our website to know more about our package to Hong Kong and Macau by clicking here.

Happy traveling!
***

Practical Information
[Hong Kong]

Time Zone
UTC/GMT +8 (same as Malaysia time)

Dial Code
+852

Transport
Bus:
Bus route to every part of Hong Kong
A double-deck bus is the most popular bus in Hong Kong

Mini-Bus:
Accommodate up to 19 people only
Route - to a set destination around Hong Kong with a set price

MTR (Mass Transit Railway)
Route - Pulau, Tsuen Wan, Kwun Tong, Tseung Kwan O, Tung Chung, West Rail, East Rail, Ma On Shan, Disneyland Resort dan Airport Express
Daily Tourist Pass - Adult: $65
Child: $30

Tram
A two-street railway: HK$2.60

Airport Express
Airport Express Pass: HK$250 or HK$350 (HK$50 refundable) - to enjoy one or two Trip Express passes, and three straight days of unlimited travel with MTR, Light Rail and Bus MTR.

Currency
Hong Kong Dollar

Visa
Malaysia passport holder does not need a visa if the trip is not more than 90 days.

Wifi
Wi-Fi.HK hotspots widely available across the city in locations such as major tourist attractions, shopping malls, parks and gardens, visitor centres, sports venues, museums, ferry terminals, cooked food centres and government buildings.
Download the Wi-Fi.HK app to search for a list of hotspot locations where you can connect to the internet with the Wi-Fi.HK SSID.

Tourist Information Centre

1. Hong Kong International Airport Visitor Centre
Opening time: 0800 - 2100
Address: Buffer Halls A and B, Arrivals Level, Terminal 1, Hong Kong International Airport, Lantau Island

2. Hong Kong Island Visitor Centre
Opening time: 1100 - 2000
Address: The Peak Piazza (between The Peak Tower and The Peak Galleria), The Peak, Hong Kong Island

3. Kowloon Visitor Centre
Opening time: 0800 - 2000
Address: Star Ferry Concourse, Tsim Sha Tsui, Kowloon

4. Lo Wu Information Centre
Operating time: 0800 - 1800
Address: 2/F Arrival Hall, Lo Wu Terminal Building, Lo Wu, New Territories

Hotline
+852 2508 1234


[Macau]

Time Zone
UTC/GMT +8 (same as Malaysia time)

Dial Code
+853

Transport
Public Bus:
1. MOP 3.20 for every trip around Macau peninsula
2. MOP 4.20 for a trip to Taipa

Shuttle Bus:
Free Bus service, starts from Zhuhai border station, Macau Ferry terminal and Taipa.
*Usually, 5* hotel will prepare this free bus shuttle service for you.

Currency
Macau Pataca or Hong Kong Dollar

Visa
Malaysia passport holder does not need a visa if the trip is not more than 30 days.

Wifi
Most public places in Macau offers free wifi services.
Hotel, Shopping mall and Shuttle bus also prepare free wifi service for tourists.

Tourist Information Centre
1. Largo do Senado
Operating time: 0900 - 1800
Phone No.: +853 8397 1120

2. Outer Harbour Ferry Terminal
Operating time: 0900 - 2200
Phone No.: +853 2872 6416

3. Border Gate
Operating time: 0915 - 1800
Phone No.: +853 2843 9310

4. Taipa Ferry Terminal
Operating time: 0930 -1300, 1430 - 1815
Phone No.: +853 2885 0438

5. Macau International Airport
Operating time: 0900 - 1330, 1415 - 1930, 2015 - 2200
Phone No.: +853 2886 1436

Hotline
+853 2833 3000