Customer: Ms. Salmiah Selaman/ Noor Fazira Zainol Rashid

On 7-15 April 2015, one of our customers fulfilled her desire to visit Switzerland, Amsterdam, Paris and London. With only RM2,847 per person (excluded airfare to each country) for 9 days 8 night, she and her friend explored these countries with so much excitement. They started their journey from Rome to Zurich, Switzerland by flight on Day 1 and spent the rest of the day exploring the city by themselves. On Day 2, they visited Mt. Titlis, a famous mountain in Switzerland to see its breathtaking beauty.

Without wasting time, the trips continued as they got on the plane to Amsterdam and went on to Lindbbergh Excursions (Amsterdam city tour) on the next day they arrived there. The excursions let them discover more about the city including its Keukenhof garden, the world famous flower fields.

On Day 5, they move towards Paris by train and spent two days there engulfing the beauty of the city. After shopping until their heart contents at Vallee Village, they went straight to the last stop of this trip which is London. Spending three days to experience the city of London should be enough to get to know this wonderful city. At the end of their trip, they looked blissfully happy returning to their place and we can't be more than happy for them.

The most important thing about this trip is that there is no travel guide at all but they managed to find their own way in the cities. Of course, we had given them the itinerary and instructions before they embark on this trip so that they will not miss anything. Exploring and discovering the city by yourself without having to follow travel guide around is what makes this trip more memorable and unforgettable to them.

One of them had also expressed her happiness after she went on this trip with our travel agency. She had openly written in her Facebook page: Iryss Ira about her happiness. Her exact words, "I'm using this travel agent on my last Europe trip (free and easy style) and alhamdulillah everything went well even no tourist guide" and she even recommended our travel agency to her friends in that post.



It is very nice of her to post and give a good review to our travel agency.
She also shared some of her photos when she was there. We are very happy to see happiness crept out from her face even by only looking at her picture.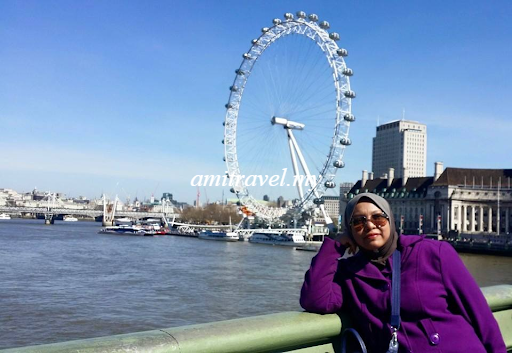 Shining brightly even in the picture, you can really see that she enjoyed her trip very well. We are glad that she enjoyed herself because it wouldn't be a nice vacation if you're not happy, right? and we hope that you will come back and use our services again=)
For those who haven't use our services yet and wants to go on a vacation in the future, you can visit our two main websites by clicking here and here to find out more about our packages.

We will welcome you with an open arm! Let's get it!